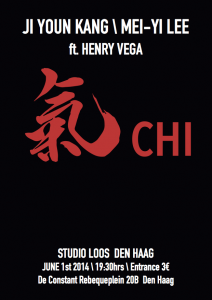 氣 CHI : The ancient Chinese described it as "life force," and is frequently translated as "natural energy" or "energy flow". The literal translation of "氣" is "breath", "air", or "gas."
We are very happy to invite you to our special evening "氣 CHI". We (The percussionist Lee and the composer Kang) have been working together as a duo since 2009, have continuously created pieces for Percussion, newly developed instruments, and Live electronics. All those pieces will be presented together, creating a rare opportunity for them to be heard, and for us to challenge and inspire ourselves to go further with our collaboration.
There will be a very special featuring performance by Henry Vega who is not only our dear friend, but also an innovative composer and performer especially in Electroacoustic music field.
>. Teaser
"氣 CHI" Teaser :

"氣 CHI" Teaser from Ji Youn Kang on Vimeo.
>. Program
Jing (2009~2010) for Jing and Computer
+Jing extra (2010)
Sit-Kim-Gut (2011) for Percussion and Computer
Hui-Mo-Ri (2012~2013) for Friction Plates (Instrument Design: Wen Chin Fu, will be performed by SonoLab Duo: Mei-Yi Lee / Vitaly Medvedev)
A new piece (2014) for A new instrument
A piece by Henry Vega
>. Entrance 3Euro
>. Special snacks for you
>. KANG www.jiyounkang.com
>. LEE www.sonolabduo.com
>. VEGA www.henryvega.net